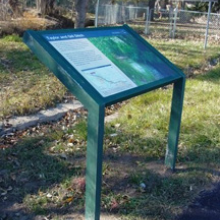 19 Wayside Exhibits have been installed. These exhibits were made possible by the cooperation of local entities, such as the Poudre River Trail, Larimer County, the City of Fort Collins, the Larimer County Youth Corps, Neighborhoods of Poudre River Ranch, and businesses including Comcast. (Example left.)
They are located along the Poudre River Trail, Gateway Park, Upper and Lower Picnic Rock, the Environmental Learning Center, Centennial Village and New Belgium Brewery.
View a map of our waysides in the Interactive Map.