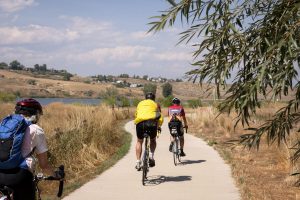 Historical Bike Tours of the Cache la Poudre River National Heritage Area
Do you love bike rides along the river? Do you wonder how water gets from the mountains to your kitchen faucet? A great way to combine history and recreation is a water history bike tour along the Cache la Poudre River! Heritage Culturalist volunteers from the Poudre Heritage Alliance are available to give personalized bike tours of Poudre River water history along the bike trail in both Fort Collins and Weld County.  Groups of between 5 and 10 cyclists are led along the bike path to locations where significant early water development took place, and where current water facilities still operate.  Participants will gain a better understanding of how water is distributed among the various users, and why the prior appropriation system is the rule of the river.
Typical half-day tours:
Fort Collins   Begin at Watson Lake in Bellvue and finish in downtown Fort Collins – approximately 6 miles.  Points of interest: the Bellvue Hydraulic laboratory and the diversion point of the Jackson ditch, the Tayor Gill ditch, the Arthur's (City) ditch, water augmentation storage ponds, the recently removed Josh Ames ditch, the modern Lake Canal headworks, and the Coy ditch, white water structures, and original Fort Collins power plant.
Weld County   Begin either at River Bluffs open space or Weld CR 13 and finish in western Greeley – approximately 13 mi.  Points of interest:  Kaplan-Hoover Bison Bone Bed, Frank State Natural Area, Whitney and B.H. Eaton ditches, Eastman Park in Windsor, Jones Ditch, water augmentation storage ponds, Poudre Learning Center, and Greeley #3 (City) ditch.