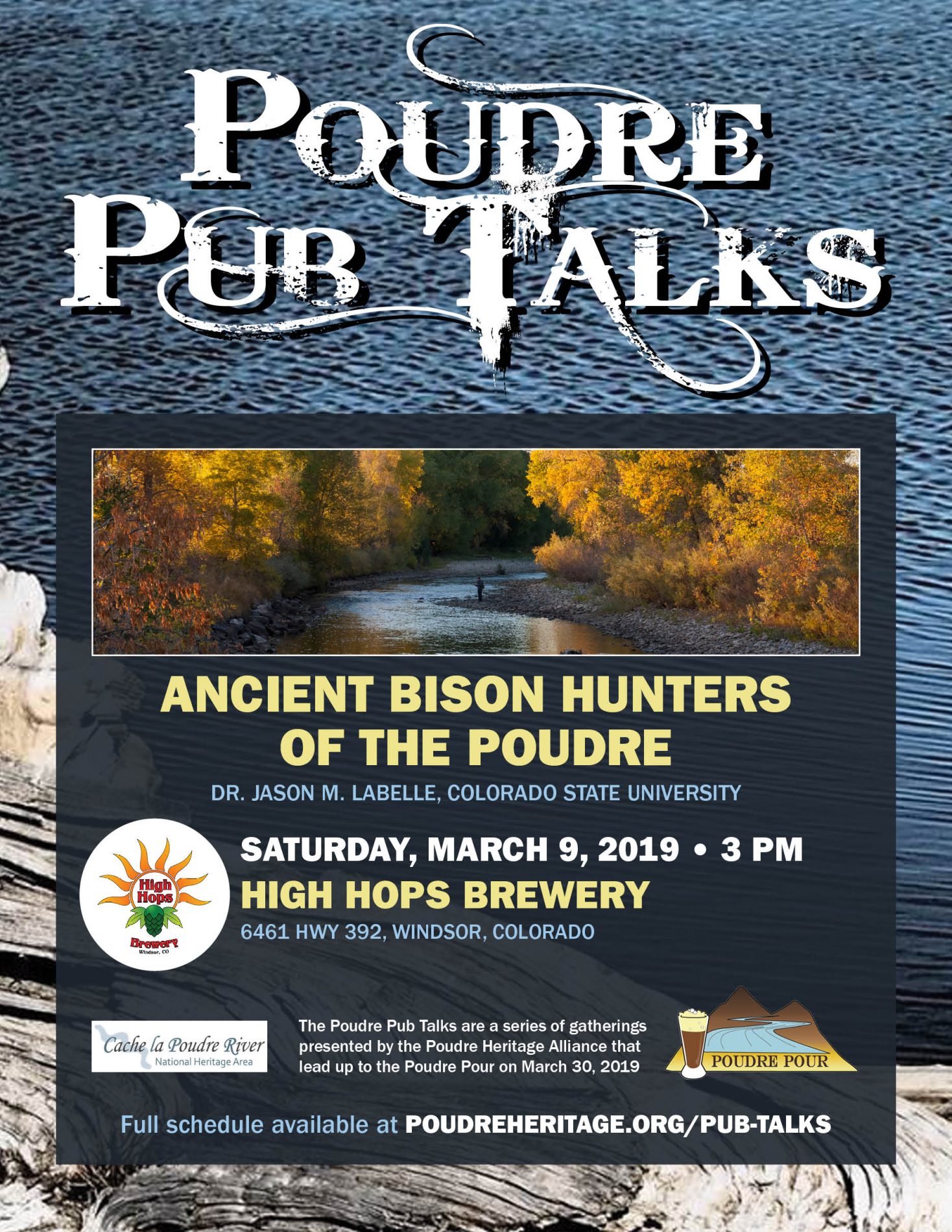 When:
March 9, 2019 @ 3:00 pm – 4:00 pm
2019-03-09T15:00:00-07:00
2019-03-09T16:00:00-07:00
Where:
High Hops Brewery
6461 CO-392
Windsor, CO 80550
USA

Contact:
Jordan Williams
9702954851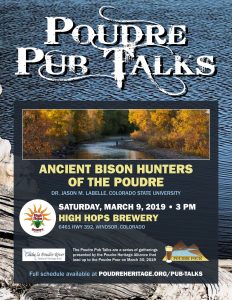 As a lead up to the second annual Poudre Pour, the Poudre Heritage Alliance will be presenting a series of educational pub talks at local breweries throughout Northern Colorado. For the March 9th Pub Talk at High Hops Brewery, Dr. Jason M. LaBelle from Colorado State University will be highlighting how Native American tribes relied on the Poudre River and its bounty–including the bison herds the river attracted–to thrive in the Poudre Valley long before any white settlers came to the region. Additionally, Dr. LaBelle will discuss his studies on the Kaplan-Hoover Bison Bonebed site, which lies just a few miles southeast of High Hops Brewing.
Dr. LaBelle is an archaeologist interested in Native American foragers inhabiting the Great Plains and Rocky Mountains of North America, with research spanning several periods over the last 12,000 years. His current work involves landscape level survey and testing of prehistoric and protohistoric sites surrounding the Lindenmeier Folsom site, a National Historic Landmark. Dr. LaBelle is currently Past-President of the Colorado Council of Professional Archaeologists and has actively worked with avocational archaeologists throughout the Plains in documenting their collections.
If you are interested in attending, please RSVP via Facebook by clicking here.
The Poudre Heritage Alliance is hosting a series of FREE Poudre Pub Talks January through March 2019  at locations across Northern Colorado, featuring guest speakers talking about a range of subjects related to "good water." For the full Pub Talk listing, go here.
The Poudre Pub Talks will lead up to the Poudre Pour on Saturday, March 30, 2018 from Noon to 4:00pm. The Poudre Pour will feature  an afternoon of FUN and LEARNING with craft brews, local coffee, and natural soda tasting stations; appetizers made with farm fresh ingredients; presentations on the many facets of "water issues" in Northern Colorado;  kids activities; live entertainment; an art exhibition and a silent auction. For more event information, including sponsorship and ticket sales, click here.