Feb
12
Wed
2020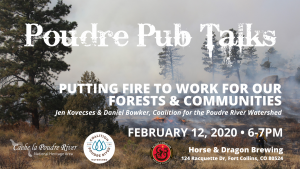 Poudre Pub Talk: Putting Fire to Work for Our Forests & Communities

@ Horse & Dragon Brewing Company
Feb 12 @ 6:00 pm – 7:00 pm
As part of an on-going series, the Poudre Heritage Alliance presents monthly educational pub talks at local establishments throughout Northern Colorado. Join us for a Pub Talk on February 12, 2020,...Read More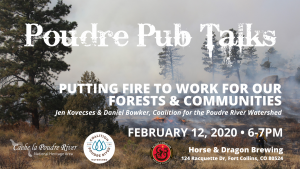 As part of an on-going series, the Poudre Heritage Alliance presents monthly educational pub talks at local establishments throughout Northern Colorado. Join us for a Pub Talk on February 12, 2020, 6-7 pm, at Horse & Dragon Brewing Co. in Fort Collins where staff from the Coalition for the Poudre River Watershed will be discussing the benefits of prescribed burns within the Cache la Poudre River watershed.
The Coalition for the Poudre River Watershed's mission is to improve and maintain the ecological health of the Poudre River watershed through community collaboration. CPRW works closely with many different government agencies and non-profits to increase resiliency and reduce wildfire risk across our forests.
If you are interested in attending this Pub Talk, please RSVP via Facebook by clicking here. The event is FREE and open to the public!
Poudre Pub Talks are a series of FREE educational presentations, open to the public, presented by the Poudre Heritage Alliance, a 501(c)3 nonprofit that manages the Cache la Poudre River National Heritage Area. Pub Talks lead up to the 3rd Annual Poudre Pour on Saturday, March 28, 2020 at Boardwalk Park in Windsor, Colorado. For the full Pub Talk calendar click here.