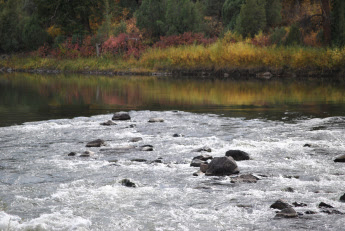 Water law in Colorado is constantly developing. Check out this new blog post from Your Water Colorado:
Public Access to Water Flowing Through Private Property
"A Denver Post article written by Jason Blevins resurrects a water issue left unresolved in Colorado for nearly 40 years. "Who owns the bottom of the river?" asks a lawsuit brought by a fisherman, Roger Hill, against a landowner, Mark Warsewa, who has blocked Hill's access to fish on a portion of the Arkansas River near Texas Creek in Fremont County. Warsewa owns the land adjacent to the river and Hill likes to wade there after entering from public property. Warsewa claims his land ownership includes the stream bed; Hill contends the river bottom is public property. A federal district court has been asked to decide.
The basis for the suit is a body of federal law called "navigability for title," which essentially says that if a river was used for commercial purposes at the time of statehood (Aug. 1, 1876 for Colorado), then the state owns the bed and the public has access to use the river for recreational purposes. The case—Roger Hill v. Mark Everett Warsewa and Linda Joseph—is in the U.S. District Court for Colorado because, as the plaintiff's complaint asserts, "the question of whether the Arkansas River was navigable for title at the time of Colorado's statehood is a question of federal law."
Colorado has no state law defining navigability. A 1979 Colorado Supreme Court decision—People v. Emmert—ruled that a Colorado constitutional provision declaring the waters of every natural stream to be public property subject to appropriation did not grant public access for recreational use when the water flowed through private property. Violators are subject to criminal trespass. A state attorney general's opinion four years later said that rafters would not be criminally liable, but could be subject to civil trespass. A 2010 legislative attempt to clarify the law would have allowed commercial rafters to float on waters through private property, but not fish; it passed the House but failed in the Senate.
Hill points to newspaper accounts from the 1870s that describe commercial use of the Arkansas River near Texas Creek to float logs and railroad ties. His complaint claims the river "was navigable at the time of statehood because it was regularly used and was susceptible to being used in its ordinary condition at the time of statehood as a highway for commerce, over which trade and travel are or may be conducted." These are the essential components of the federal "navigability for title" law."
For the full article by Larry Morandi, click here.
Photo: "Colorado River @ Bond Colorado" by Loco Steve is licensed under CC BY 2.0