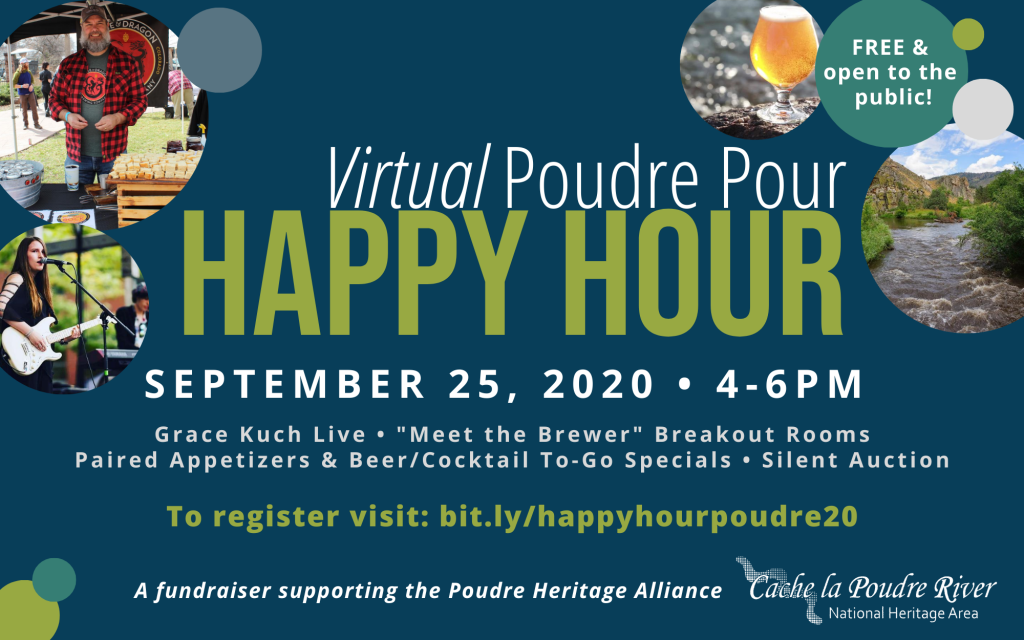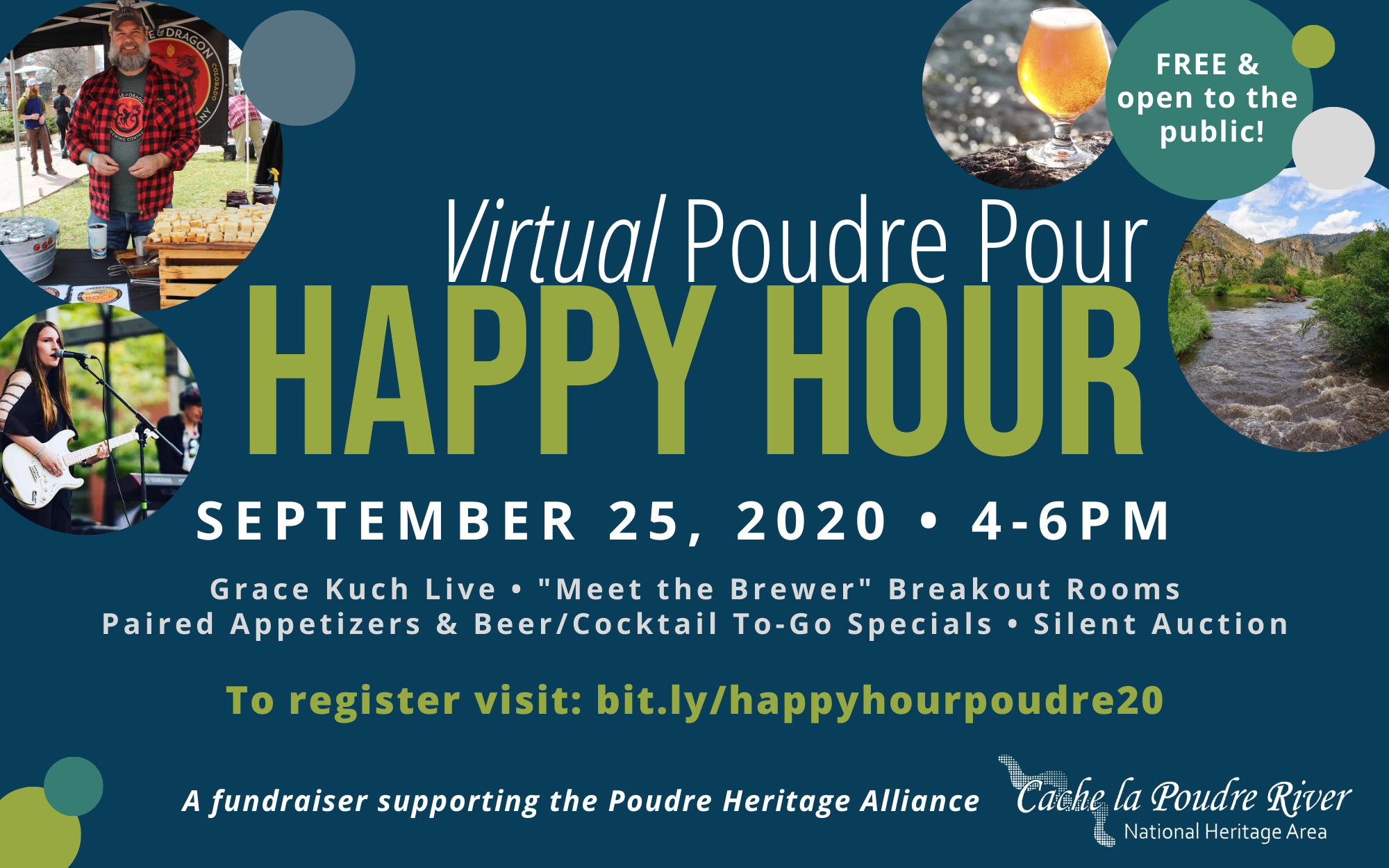 About the Happy Hour
The Virtual Poudre Pour Happy Hour will feature live Blues music from Grace Kuch, "Meet the Brewer" breakout rooms, a silent auction supporting the Poudre Heritage Alliance, beer, cocktail, and infused appetizers to-go, and more.
All funds raised will support Poudre Heritage Alliance programming that PROMOTES cultural and historic activities, ENGAGES people in their river corridor, and INSPIRES learning, preservation and stewardship.
Craft brewers joining us include Horse & Dragon, Odell Brewing, Purpose Brewing & Cellars and Timnath Beerwerks.
Infused appetizers to-go in 3 boxes (serves 3-4 people) from Z Catering featuring nine different infused, gourmet appetizers from Northern Colorado brewers and distillers. Available for purchase when you reserve your FREE tickets. Available for pick-up on Friday, Sept. 25 between 1-3pm at the CO Welcome Center parking lot at E. Prospect and I-25.
REGISTER FOR FREE VISIT SILENT AUCTION
Happy Hour Schedule:
Main room:
– 4:00-4:05pm: Welcome w/ Kathleen Benedict, Poudre Heritage Alliance Executive Director
– 4:05-4:30pm: Grace Kuch – set #1
– 4:30-4:40pm: PHA Spotlights w/ Ryan Brennan, Poudre Learning Center
-4:40pm-5:00pm: Silent Auction updates/Polls/Giveaways
– 5:00-5:10pm: PHA Spotlights w/ Matt Robenalt, Fort Collins Downtown Development Authority
– 5:10-5:35pm: Grace Kuch – set #2
– 5:35pm-5:45pm: PHA Spotlights w/ Laura Browarny, Town of Windsor
– 5:45-6:00pm: Silent Auction updates/Closing remarks
Breakout Rooms:
– 4:40pm-4:55pm: Meet the Brewer Breakout session #1
– 5:45-6:00pm: Meet the Brewer Breakout Session #2
The Silent Auction will go live on Sept. 18, 2020. To view the auction and begin bidding please visit: https://www.32auctions.com/poudrehappyhour2020