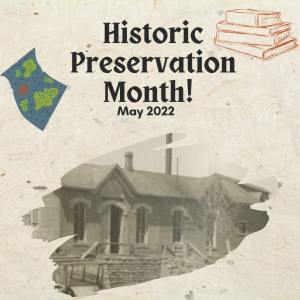 Celebrate Historic Preservation Month! See the list below of things you can do this month to connect with history in the NoCo area.
Traces of the Past History Tours
Location: Fort Collins, CO
Website: Traces of the Past History Tours – Home
Explore the history of Fort Collins and the surrounding region with Traces of the Past History Tours. We offer guided tours and formal programs that are fun and educational for all ages. Choose from two tour options of Fort Collins and special tours of sites around the CO/WY/NE region. Our Saturday evening talks give you an opportunity to learn about interesting historical topics in great detail. To add to the enjoyment, our tour guide and program presenter is dressed in historic period clothing and displays original and reproduction period objects to enhance the experience. We look forward to seeing you!
Majestic Mountains Scenic Rides
Location: Fort Collins, CO
Website: Sightseeing tour, Ft Collins Tours, Majestic Mtns Scenic Rides (majesticmountainsscenicrides.com)
Scenic sightseeing and history tours to the Northern Colorado Mountains leaving from Fort Collins.  The driver will guide you along the way with points of interest and interesting facts. Each tour is filled with beautiful scenery and your guide gives the history of the settlers and pioneers of the areas we visit.  There are multiple stops to allow for photographs along the way.
Greeley History Museum
Location: Greeley,CO
Website: Greeley History Museum | Greeley Museums
The Greeley History Museum provides 34,000 square feet to explore and learn about the history of Greeley and notable community members such as Nathan Meeker, Rattlesnake Kate, Dr. Ella Mead, and P.T. Barnum, as well as bison hunters, cowboys, stoop laborers and prisoners of war from World War II. They maintain the permanent display "Utopia: Adaptation on the Great American Desert," which teaches about the earliest human inhabitants of the Union Colony, the contributions of water buffaloes, mavericks, and mentors. The museum schedules traveling and temporary exhibits which feature artifacts from the museum's archives.
Centennial Village Museum
Location: Greeley, CO
Website: Centennial Village Museum | Greeley Museums
This living history museum, situated on eight acres, features over 30 original homes and structures, lush gardens and paved walking paths providing a look at local life from the 1870s through early 1930s. Costumed interpreters guide visitors through the early history of our region in these buildings and period landscaped grounds. Throughout the summer, families can take part in interactive experiences from one-room school to military demonstrations on horseback. During a visit to Centennial Village, you will learn about how our early pioneers lived on the high-plains region of Colorado, especially focused on our agricultural heritage.
Windsor Art & Heritage Center
Stop by the Art and Heritage Center in Windor to celebrate History Preservation Month!
Location: 116 5th St, Windsor, CO
Website: Historic Preservation | Windsor, CO – Official Website (windsorgov.com)
Friday, May 13th, 2022: 5:30-7:30
Saturday, May 14th, 2022: 10am- noon
Enjoy a fun history activity and light refreshments while you learn about Windsor's historic buildings!