The Cache la Poudre River flows through Colorado's history
Linking its people, history, and arteries of commerce, the Poudre River has been counted on for moments of great drama, and for attracting its share of characters. The river has many stories to share, and through our Heritage Trail Program we will elevate those stories in a cohesive manner throughout the river corridor.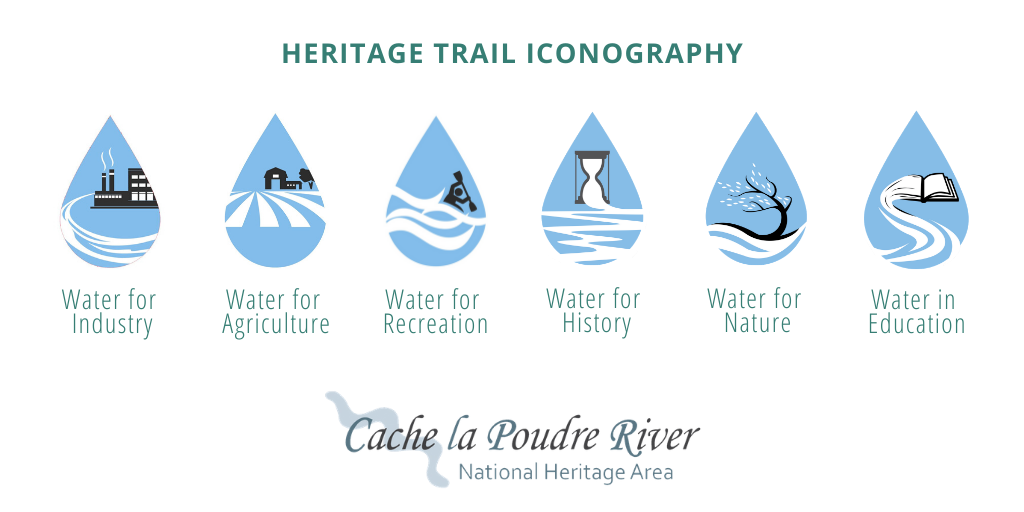 The Cache la Poudre River National Heritage Area (CALA) follows 45 miles of the lower "working Cache" through Fort Collins, Windsor, Greeley and beyond. Through the Heritage Trail program we are creating cohesive branding, storytelling and visitor wayfinding throughout the river corridor. Interpretive signs and viewing areas next to the river will enable visitors to understand more clearly the messages of history, the environment, or a nearly forgotten culture.
This program also ties into the re-development of the Poudre River District in downtown Fort Collins, including the new Whitewater Park that has transformed sections of the river and improved recreation for kayakers and tubers.
This first Heritage Trail marker and gateway, located at the Poudre River Whitewater Park, speak to the history and importance of the Coy Ditch headgate and diversion structure, which led to the first in-channel water right in Colorado. This type of water right supports "in-channel" river recreation, such as kayaking, as a beneficial use within Colorado's Doctrine of Prior Appropriations. The site is also important to the history of Water for Agriculture and Water for Industry, with the CSU Powerhouse overlooking the park and the Coy headgate still intact. The marker and gateway include QR codes connecting visitors to additional online resources about these sites.
The Poudre Heritage Alliance worked closely with the Downtown Development Authority (DDA), who helped to fund the project as part of their 5-year investment plan (2016-2020). In addition, PHA worked with the City of Fort Collins Parks & Planning and Art in Public Places (APP) departments to design and install this first Heritage Trail Gateway (located on the south side of the bridge across from the wave shelter) and second, smaller informational marker (located on the north side of the bridge).