Colorado State University Powerhouse Energy Campus
430 N College Ave, Fort Collins, CO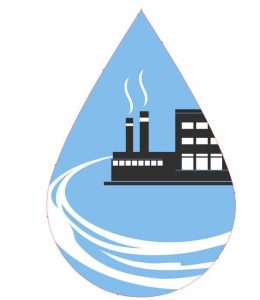 One of the largest projects undertaken in the city during the 1930s was the building of a municipally-owned electric power plant. Construction began on the coal-powered plant on the south bank of the Cache la Poudre River at 430 North College in November 1935.  To meet the cooling needs of the new power plant, the Coy Ditch Diversion was strengthened and a siphon was constructed under the river bed to obtain water for cooling. To reduce pollution in the river from return flows with high water temperatures, a landscaped grotto consisting of a waterway and collecting pool was constructed.  The plant was completed the following year and began providing electricity to the city in late June 1936.
In conjunction with the plant, Works Progress Administration (WPA) workers built a four-hundred-foot retaining wall along the south bank of the river and installed landscaping around the building.  In 1937, Mayor Ray Matthews reported that the grounds surrounding the plant had been beautified with the erection of a fountain, walks, curbing, lawns, rock gardens, and flower beds.  Matthews noted that "the site has become one of the beauty spots of the city and creates a very attractive north entrance to 'The City Beautiful.'" The plant was expanded with output increasing until it was decommissioned in 1973.
In the early 1990s, Colorado State University collaborated with the City of Fort Collins to convert the abandoned plant into a modern energy research and education center. Given the architectural significance and the impact of the original power plant on the development of mid-20th century Fort Collins, the entire site (including the Power Plant, its grotto, and the terra-cotta fountain in front of the building) were designated collectively as a local historical landmark on September 1, 1987.  In 2014, the construction of additional space at the site resulted in a name change:  Colorado State University Powerhouse Energy Campus. The CSU Engines Lab, as it is locally known, and has since grown to become a globally recognized energy research and educational facility.
Click here to continue learning about the history of the Coy Ditch and Diversion as it relates to water for recreation and Colorado's first in-stream recreational water right.
Tourism Information
Tours of the building may be arranged in advance of your visit by calling 970-491-4793.
Accessibility
ADA Accessible
Directions
The fountain and cooling grotto can be viewed via a path off of the Poudre Trail leading south of the river on the east side of College Avenue
Colorado State University Powerhouse Energy Campus