5212 Poudre Canyon Rd, Bellvue, CO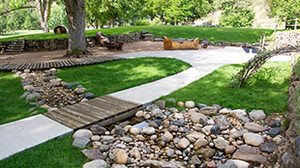 Audio Segment: Gateway Natural Area
The city's old water filtration plant, where the North Fork of the Poudre River joins the main Poudre River, was built in 1905 and was used until 1987. Another water treatment plant was built on Laporte Avenue in 1967, and in 1987 that became the only plant still in use. A Heritage Area interpretive sign can be viewed here.
Tourism Information
Hours:
Open dawn to dusk.
Cost:
The daily parking fee of $6 per standard vehicle is required year round.
Accessibility
Private Property. View from trail.
Wayside Sign
Sign GPS: 40°42'05.2″N 105°14'30.5″W
Directions
Located in Gateway Natural Area. From Fort Collins, head north on Shields St until you reach Hwy 287 (College Ave). Turn left (west) onto Hwy 287 North and proceed .5 miles before turning left (west) onto Hwy 14/Poudre Canyon Rd. Continue 5.4 miles and then turn right (north) into Gateway Natural Area.