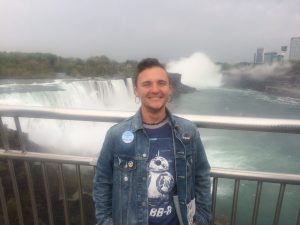 My name's Andy Auer, and I'm the new volunteer coordinator for the Poudre Heritage Alliance. I'm 24, and my pronouns are they/them/theirs. I'm going to be helping Jordan out at the office and at various PHA tabling events – I hope to get to know all of our amazing volunteers, hopefully sooner than later!
I grew up in southern California, and moved to Colorado in 2013, when I started school at Colorado State University. I graduated in May 2017, with a BS in geology and a minor in history. During my time at CSU, I was highly involved in various student organizations, including Geology Club, Gender Identity Group, and Prism (a group for LGBT+ students), as well as serving as an ASCSU senator for the Pride Resource Center in my senior year. I value these experiences for how they've strengthened my communication skills, as well as enabling me to take on further responsibilities and opportunities.
After graduating, I've continued my involvement in the Fort Collins community, and am currently the president of the Fort Collins Running Club and on the board of NoCo Equality, as well as working in Fort Collins and Livermore, CO.
 I completed Heritage Culturalist Volunteer training with PHA in 2018, and I'm excited to be contributing more to the organization in the role of Volunteer Coordinator.
The study and interpretation of history is really important to me. One of my history professors at CSU was fond of saying "nothing comes from nothing" – meaning that who and where we are today is built atop everything that's come before. In geology, we took that rather more literally, but still found it to be true. The Poudre Heritage Alliance is an interesting place to work, because we are always trying to focus on how the history of the area has led to our present, and how best we can continue interpreting that history into the future.
The Cache la Poudre National Heritage Area is at the intersection of many different communities, and has been since before recorded history. I'm looking forward to working with the Poudre Heritage Alliance volunteers to expand the general public's knowledge of the Cache la Poudre National Heritage Area. I'm also excited about learning more about its history and engaging with the National Heritage Area's stakeholders as they discuss, debate, and make plans for its current and future management.