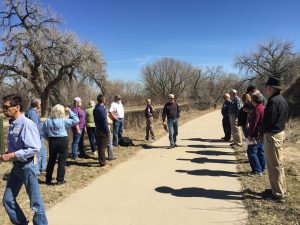 Individual Heritage Area Exploration Certification Requirement
Option 2: Wayside Walk
Certification Requirement:  As an individual, complete one of the following self-guided explorations (Outreach Visit or Wayside Walk) of the Cache la Poudre River National Heritage Area.  The time spent on this self-guided learning is required for initial certification as a Heritage Culturalist Volunteer and does not count towards the 40 hours in 2 years volunteer requirement.
Option 2: Wayside Walk:  One of most common ways in which the public first interacts with the Heritage Area is IS through the Poudre River Trail and natural areas.  The Poudre Heritage Alliance has produced a series of interpretive signs concerning the history of the river and has also partnered with Poudre River Trail Corridor, Inc., Larimer County Natural Resources and the City of Fort Collins Natural Areas Department to produce signage in various natural areas.  We invite you to get outdoors, enjoy nature on the trail, and complete a "scavenger hunt" as you help us to take inventory of the many interpretive signs that introduce the Cache la Poudre River National Heritage Area to the community.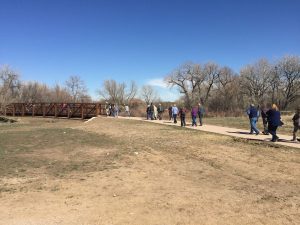 Instructions for the Wayside Walk:
 Locate and visit 4 wayside interpretive signs.
 Document condition and location of sign with photos and a brief description.
 Document your general thoughts about the content of the sign and its connection to the Heritage Area.
 Record GPS coordinates of sign.  Use the Compass feature on your smart phone or Google Maps or this website:  http://www.gps-coordinates.net/gps-coordinates-converter. If you are not able to record GPS coordinates, you will not be penalized.  There is no cell service at Picnic Rock or Gateway Natural Area.
 Test the QR code on the sign and note the website or video(s) it directs you to.  QR reader apps are available for iPhone or Android.  You can also enter the full website address found on the bottom of the QR code sticker which will direct you to a specific page on our Videos page.
 Complete and submit your evaluation and photos using the Wayside Walk Form at the bottom of this page or email to admin@poudreheritage.org  with the above information and photos (via email or online).
 Don't forget to hit the "submit" button at the bottom of the form.  The website will display a message letting you know your submission has been received if you have successfully completed your submission.