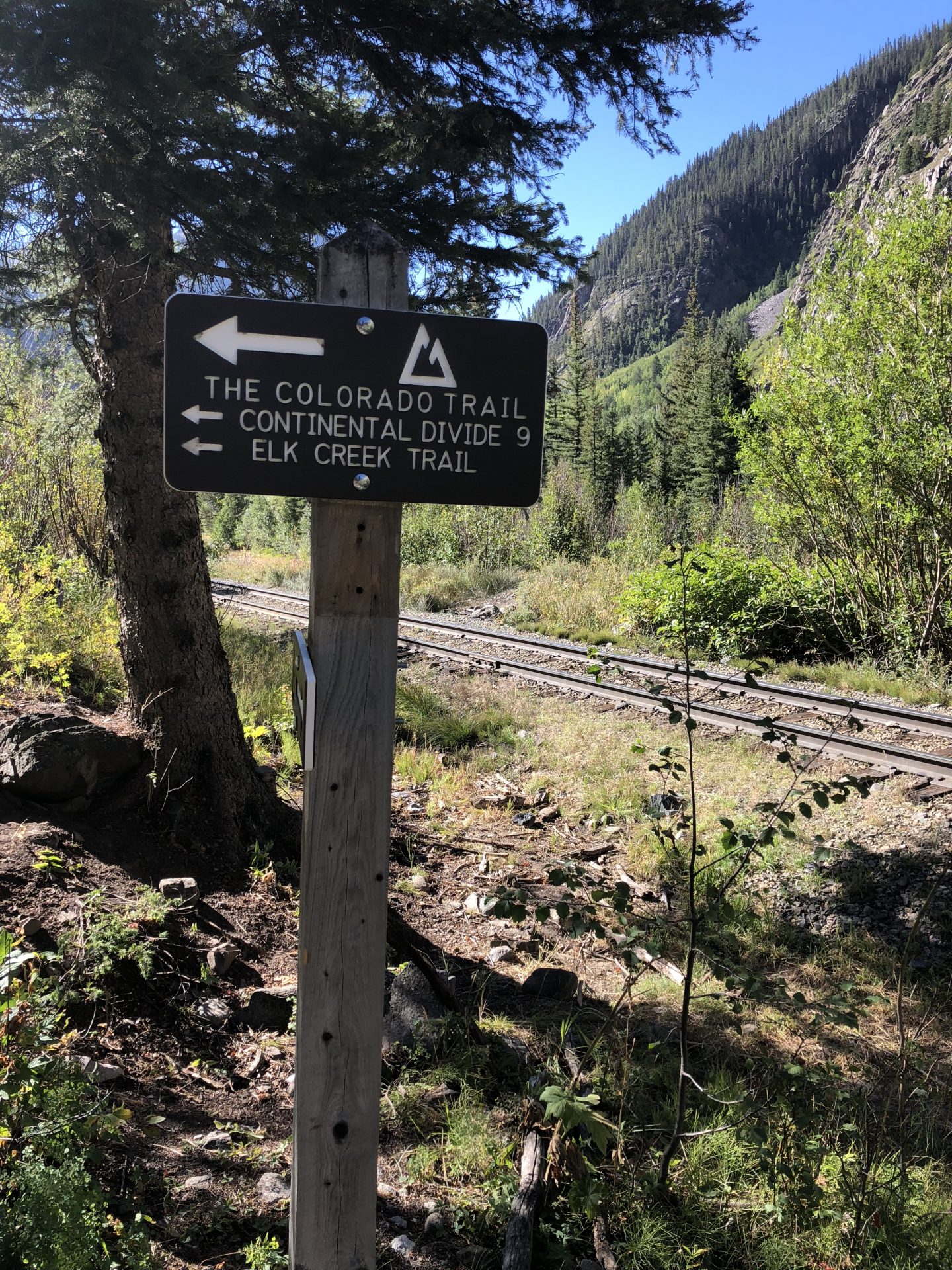 Backpacking in an efficient and relatively comfortable manner requires a considerable amount of "technology". Basic gear includes a sleeping bag, sleeping pad, rain cover, tent, water filter system, trekking poles, cooking stove, and of course a backpack to carry everything. With all of these items, you could spend hours researching the most cost effective and lightest possible equipment. Hikers can talk equipment tech for hours sometimes.
When I am out on the trail though, the dichotomy between the technology that I am carrying and the technology of the past or present becomes interestingly juxtaposed. For example, we will often be hiking for hours out in the wilderness by ourselves, only to come to a jeep road with an ATV or quad full of people flying past us. When this happens, I can't help but think—"that sure looks a lot more comfortable than what I am doing". Other times, I come to an old dilapidated log cabin at 11,000 ft and wonder—"how the heck did people survive up here without a four-season down sleeping bag?"
Nowadays, there are countless ways to explore nature, whether it's backpacking, mountain biking, climbing, horseback riding, or in an off-road vehicle. All these options require their own know-how and equipment. When you think back to the frontier days of Colorado in the 1800s though, one technological advancement truly opened up the Rocky Mountains to exploration and settlement: the railroads.
I felt this connection to our state's heritage while walking along the Durango and Silverton Narrow Gauge railway (D&SNG) as it parallels the Colorado Trail. (See featured picture.) If I wanted to, I could have even waited for the next train and skipped a few miles of trail as the train would take us to Silverton for our next resupply. Of course, today this train functions as a tourism connection rather than an industrial necessity for mining and transportation. But back in the day, the railroads were the way to get around.
Starting in 1882, four railroads would be built before 1900 to serve the small mining town of Silverton, Colorado. These lifelines not only made mining lower grade ore profitable, but they provided much needed supplies to the town's inhabitants. With declining profits from mining in the 1900s, many railroads across the state folded and tore up their tracks for use in other industries. However, the 45.6 mile D&SNG was ultimately saved because of interest from Hollywood and heritage tourism.
The Cache la Poudre River National Heritage Area is no stranger to it's own technological advancements. With railroads still running through cities like Fort Collins, the heritage area itself was designated in part to commemorate advances in water management systems. For example, the Parshall Flume—a water measuring device used around the world to this day—was invented at the Bellvue Hydraulic Lab, which is connected to the Jackson Ditch in Laporte, CO.
The remnants and histories of other railroad companies and past technologies can be glimpsed at many points along the Colorado Trail. Now every time I see an old mining cabin, a torn up railway, or an ATV flying past me, I can't help but appreciate the hardiness of the area's first settlers and an appreciation for human ingenuity. But my last thought is usually gratefulness for my warm sleeping bag, and thankfulness for an automobile that will take me into town when I want to get off the trail.
Day 23: After a leisurely morning in Lake City, we received a ride from the local volunteer shuttle back to the trailhead. Of course, the 3 hour town-wide power outage certainly made the morning interesting. Never a dull moment in a small trail town! Because we were getting back on the trail later than usual, we had a short day planned that would land us at the Colorado Trail Friends Yurt. (See the sunrise picture from the deck of the yurt below.) Rather than sleeping in a tent on the ground, we would get to sleep in a shelter, on a cot, with chairs and a table! Ah, the little things in life. Of course, the over-used outhouse and mice trying to steal our food made for an interesting night's sleep.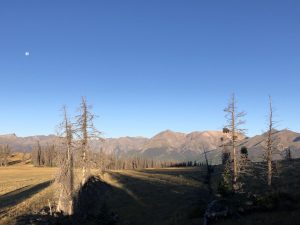 Day 24: While we were a little bummed to leave the yurt, we were excited to reach the highest point on the Colorado Trail at 13,271 ft. This segment promised beautiful views of the San Juan Mountains, and we were not disappointed on this blue sky day. Every few feet, I was tempted to stop and take a picture, which definitely slowed down the hiking. We also finally ran into some wildlife, with the coyotes howling in the Lost Creek basin, moose lounging at Cataract Lake, and marmots chirping at us from everywhere. In addition to this feeling of remoteness, we came upon the old Carson Saddle mining community (see pic below), which now included an abundance of ATVs on its old roads. Living up here must have been quite the challenge back in the day.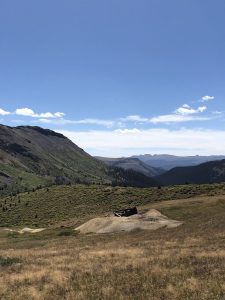 Day 25: After waking up to frost on our tent at 12,500 ft, we steeled ourselves for more ups and downs before we would finally leave the Continental Divide at Elk Creek Canyon. We walked past the headwaters of the Rio Grande, which flowed into a trickle down below. Then we proceeded over Stony Pass, which still housed the remnants of an old railroad that climbed over this 12,000 ft mountain. (See pic below.) We had more breathtaking views along the divide in the Weminuche Wildnerness, and then we ran into a huge flock of sheep at the top before we began our descent. That night, we shared our campsite with a couple moose and deer who were having dinner and drinks near our campsite. It was definitely a memorable day to say the least!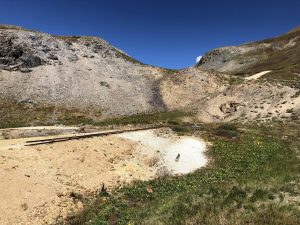 Day 26: With the promise of another town stop in Silverton, we hiked hard and fast over the D&SNG Railroad and the Animas River. (See pic below.) The uphill to reach Highway 550 from the canyon was a challenge, but it was nice to be down at lower elevations with more oxygen to breath and more trees to provide shade. We listened to the train go past us from afar, but we were thankfully able to get a quick hitch into Silverton from the road. I have been so appreciative of people's willingness to help us along our travels from friends and strangers alike.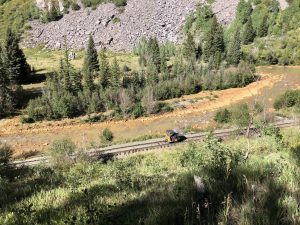 As I sit in the newly reopened Coffee Bear café in Silverton, which at one time was an old saloon, it's crazy to think that we only have 75 miles of the trail left until we reach Durango. Undoubtedly, there will be injuries, weather complications, and unforeseen challenges along way the way. But thanks to modern technology, hopefully we will be able to weather the storm (literally and figuratively). In the end though, I will only have more appreciation for Colorado's heritage that brought us to the mountains via trails, horses, railroads, cars, airplanes, and more.
About the author: Jordan Williams is the Assistant Program Manager for the Poudre Heritage Alliance, and he will be hiking the 400+ miles of the Colorado Trail from Denver to Durango from August to early September alongside his wife Kelsey and their dog, Aska. During their trip, the threesome will be making stops in South Park and Sangre de Cristo National Heritage Areas and blogging about their experiences. Additionally, they will be posting about their adventures on Instagram @thehikingheeler and @poudreheritage. Don't miss your chance to learn more about Colorado's Heritage Journey!