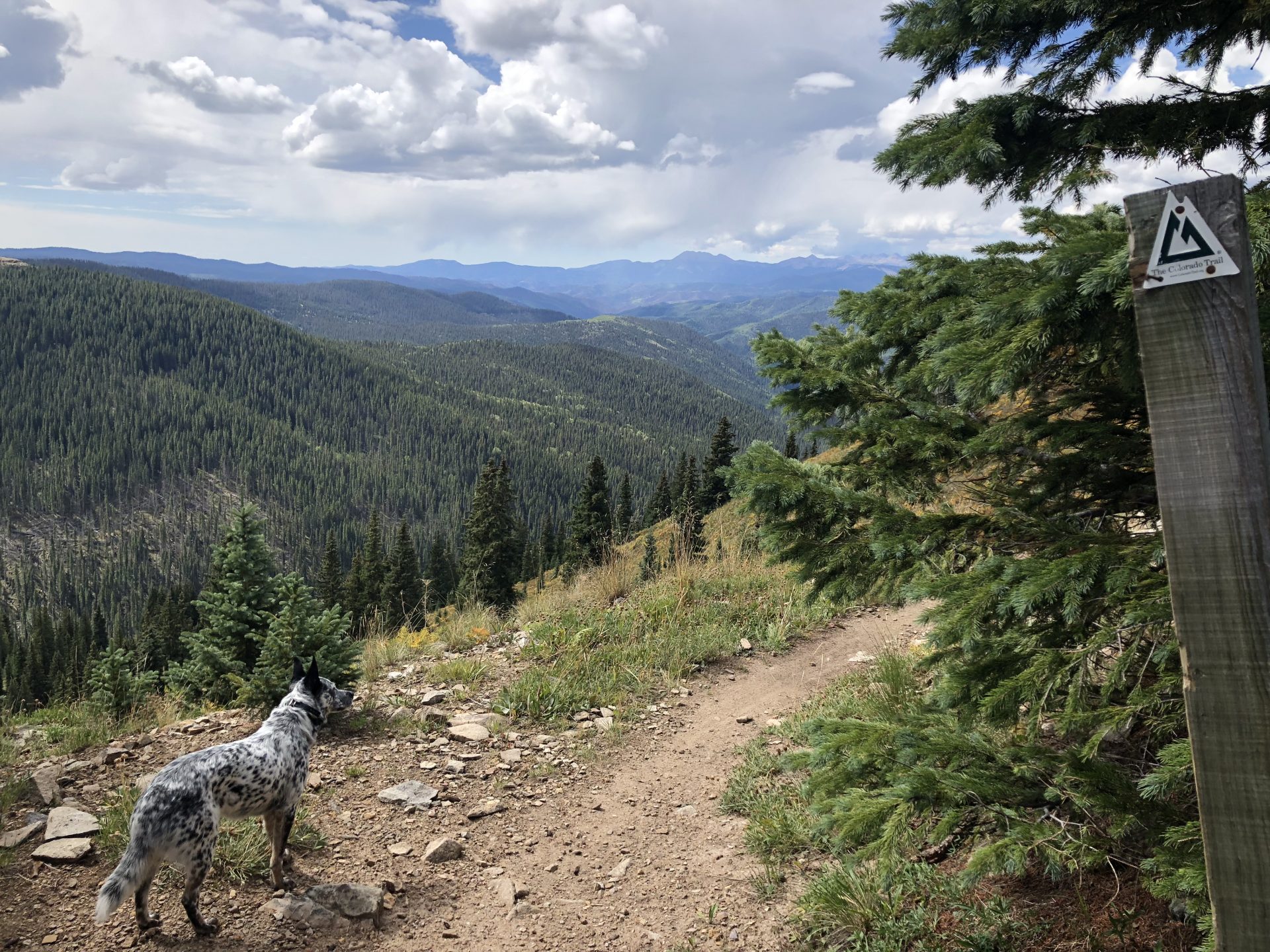 "Trail life" can mean a lot of different things. For Kelsey, Aska, and I during our 400+ mile thru-hike of the Colorado Trail, here is what a typical day looked like: Wake up between 6-6:30am; retrieve the food bag we hung the previous night from a nearby tree to protect us from bears (hopefully); feed our dog Aska and get her paws/pack ready for the day; boil water for coffee and breakfast; pack up our tent, sleeping bags, pads, and other equipment; filter water depending on upcoming water sources; start hiking our average 15 miles per day; stop a couple times along the hike for snacks and lunch; reach camp around 4pm and unpack everything we need for the night; boil water for our dehydrated dinner; hang our bear bag; brush our teeth; watch or read something on our phones; go to sleep.
Many friends and acquaintances during our travels would ask us questions like: "How amazing were the stars at night?" Or "I bet all the campfires were super fun". However, when your quasi-job for the month involves walking with a 40 lb backpack for 8-10 hours each day, all you really want to do is lay down in your tent and go to sleep at 8pm before the stars even come out. Of course, other people experience different versions of the trail life, which could include horseback riding, ATVs, and lots of campfires. The great thing is that our trail infrastructure is so versatile that it can satisfy the diverse recreational demands of millions of people each year.
Thanks to our National Trails system, it's easier than ever to enjoy your time in the outdoors. This year we celebrate the 50th Anniversary of the National Trails Systems Act as well as the 50th year celebration of our Wild and Scenic Rivers. Additionally, the Continental Divide Trail, which is celebrating it's 40th year as part of that system, is co-located with the Colorado Trail for about 300 miles. This trail is interesting because unlike the more famous Pacific Crest Trail and Appalachian Trail, it still needs some work to be completed from end-to-end.
One of my favorite conversations along the trail was with a Canadian couple that was backpacking a section of the Colorado Trail per a recommendation from their son who thru-hiked the full 2,500+ mile Continental Divide Trail corridor the previous year. The couple explained that Canada contained many great trails, but no real continuous trail systems like in the United States that extend for hundreds and hundreds of miles. They were particularly amazed how most of our trails were "free", meaning no one was charging them money to hike or camp along the way. I tried to explain how our public lands work in terms of national forests, wilderness areas, and even national heritage areas, but obviously things can get a little complicated.
As part of that same trails system, historic pathways such as the Old Spanish Trail and Overland Trail still weave through modern day trails in Colorado. (See the additional resource links and books below.) In fact, my time spent driving over Poncha Pass and hiking through the Cochetopa Creek basin along the Colorado Trail directly connected me to Sangre de Cristo National Heritage Area and the north branch of the Old Spanish Trail. This 19th century trade route spanned the distance between the Mexican provinces of New Mexico and California, using footpaths blazed over centuries by American Indians and reported on by early Spanish explorers. Its heyday existed from 1829-1848, before more southerly roads were pioneered by the Army and the more northerly emigrant trails came into favor. There were three routes that are identified today as the Old Spanish National Historic Trail. The North Branch proceeded north from Santa Fe into Colorado's San Luis Valley, followed the Saguache River Valley, crossed Cochetopa Pass, and forded the Colorado River near Grand Junction.
Throughout my time on the Colorado Trail, I could envision how previous explorers and Native Americans utilized the same paths that our National Trails system keeps in tact to this day. And I hope that everyone living the trail life can appreciate this important piece of heritage as well.
Day 27: After several blue sky days in the San Juan mountains, the weather forecast for the week looked pretty foreboding. We woke up to rain in Silverton, then as we drove away from the town to Molas Pass, we glimpsed snow on the tops of the 13,000 ft mountains in the distance. Yikes. Thankfully on this day we were able to avoid most of the thunderstorms and hail on our way to a beautiful camping spot at Cascade Creek. The roaring river and waterfalls more than made up for the rainy and cloudy conditions. (See the waterfall picture before.) We also avoided contact with another herd of sheep that we only heard from the hillside. Talk about a different trail life than our experience!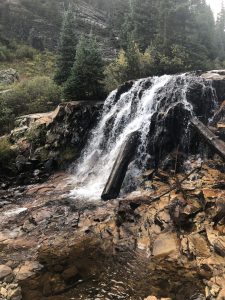 Day 28: With only few days of hiking remaining, we seemed to be grinding out miles faster than usual. It helped that we once again were lucky with weather as the mist and clouds seemed to be building behind us rather than in front. After many days in the wilderness without mountain bikers, we were encountering more cyclists than hikers at this point. Some were camping along the trail as well, while others were just out for a day of joy-riding over Blackhawk Pass and milky colored creeks. (See our picture from the top of the pass below—right before the mountain bikers came speeding by us on the downhill.) At times there can be friction between different trail users, but most of the mountain bikers we encountered during our travels were very respectful of the backcountry.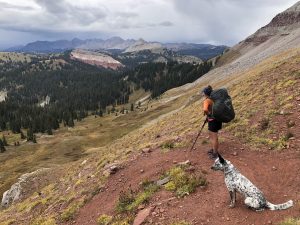 Day 29: From where we were camped at Straight Creek the previous night, we had a stretch of 22 miles before we would run into another water source at Taylor Lake. We were making good time over the déjà vu style up and downs until lunch when the hail and rain finally found us. After 45 minutes of huddling together under our tarp, we made a break for our campsite which was about another four miles down the trail. Despite muddy walking and thunderstorms all around us, we finally made it to our scenic overlook campsite for the evening. The views, clear skies, and sun were quite the treat after all the stressful hiking over the last few days. (See the picture below of the snow-capped mountains in the distance.) Amazingly, despite such an awesome campsite, we didn't run into any other trail users on this Labor Day.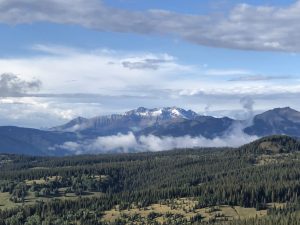 Day 30: With sunny and clear skies in the morning, we prepped for our final big climb over Indian Trail Ridge, also known as the Highline trail, which would take us over 12,000 feet for the final time. The ups and downs were taxing but beautiful as we said goodbye to the alpine views behind us while also glimpsing the forest burn sections that had closed the Colorado Trail earlier in the summer. While the CT was now open, many other trails in this area were still closed because of mudslide and hotspot dangers.
As we made the descent over Kennebec pass, I was able to reminisce about a 12 mile race I did in the La Plata canyon two years ago. But I didn't have time to dwell on these fond memories, because as soon as we got back into treeline, the hail, thunder, and rain began. Despite our best efforts to wait out the rain, it wouldn't let up. Eventually, we had to forge ahead through trails that resembled rivers and forests that were covered in a white layer of hail. (See the white-spotted picture below.) Despite a miserably wet campsite, our spirits were lifted when two other thru-hikers who we knew from our earlier travels camped with us that night. Misery really does love company!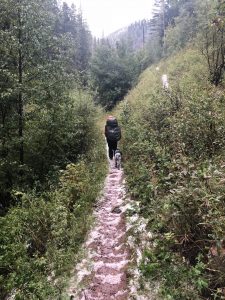 Day 31: Now that only 15 miles separated us from Durango and the end of our journey, it didn't matter as much that our shoes and equipment were soaked. We pressed on through fairly easy hiking conditions, and soon the sun was shining on our final day of hiking the Colorado Trail. After crossing the finish line, we waited for our hiker compadres to reach the trailhead as well so we could give them a standing ovation. Then after our friends who live in Durango picked us all up, we went to the local brewery to receive our free beer for completing the trail. It was the best beer I have ever tasted.
After 31 days of hiking on the Colorado Trail from July 30 to September 5, my biggest takeaway is what I call my new "trail mentality". Essentially, it boils down to living in the present and enjoying the moment. Another assumption that many people have about the trail life is that there is a lot of time for reflection and introspection. But usually, you are too tired or too focused on the hill in front of you to worry about the world at large. This mentality can be a good thing I think because it directs us to concentrate on the challenges immediately before us (e.g. the uphills), enjoy the fun times when we can (e.g. the flat parts), and not worry about the future outside our own purview (e.g. the inevitable, leg-pounding downhills).
The whirlwind of modern life will undoubtedly infringe on my trail mentality in the not too distant future. But I feel confident knowing that our national trails, wild and scenic rivers, and National Heritage Areas will be there to remind me of the important things in life when I need an escape to the outdoors. Now it's time to look at my calendar so I can plan my next visit to our trails—maybe next weekend?
Recommendations for future readings:

For the Old Spanish Trail, particularly regarding Juan Bautista de Anza and his crossing of Poncha Pass:

Anza's 1779 Comanche Campaign by Ron Kessler (original journal)
Juan Bautista De Anza the King's Governor in New Mexico by Carlos R. Herrera
The Comanche Empire by Pekka Hamalainen

Overland Trail: https://coloradoencyclopedia.org/article/overland-trail
About the author: Jordan Williams is the Assistant Program Manager for the Poudre Heritage Alliance, and he will be hiking 400+ miles of the Colorado Trail from Denver to Durango from August to early September alongside his wife Kelsey and their dog, Aska. During their trip, the threesome will be making stops in South Park and Sangre de Cristo National Heritage Areas and blogging about their experiences. Additionally, they will be posting about their adventures on Instagram @thehikingheeler and @poudreheritage. Don't miss your chance to learn more about Colorado's Heritage Journey!