Cache la Poudre River National Heritage Area Economic Impact Study – 2017
In coordination with Tripp Umbach, the Poudre Heritage Alliance released a report in 2017 that shows the economic impact of the Cache la Poudre River Heritage Area, which includes an annual $81.6 million impact on the region, supports 1,067 jobs, and generates $6.9 million in tax revenues.
CALA Economic Impact Study 2017
---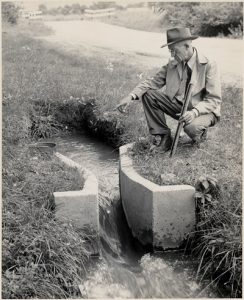 Ralph Parshall and Water Engineering in Northern Colorado by Michael Weeks
During the first half of the twentieth century, no individual contributed more to fairly and effectively distributing water to farmers than Ralph Parshall.  Born in Golden, Colorado, Parshall spent his entire career working for Colorado Agricultural College (now Colorado State University) and the Bureau of Agricultural Engineering of the United States Department of Agriculture (USDA). This article, which was funded through a grant from the Poudre Heritage Alliance, analyzes Parshall's impact through his career as a water engineer, consultant, and public figure.
This article was recently published as part of a collection of articles about environmental history.
"Measuring Expertise: Ralph Parshall and Watershed Management, 1920-1940," in The Greater Plains: Rethinking a Region's Environmental Histories (Lincoln NE: University of Nebraska Press, 2021).
"Ralph Parshall and Water Engineering in Northern Colorado" by Michael Weeks
---
Josh Ames Ditch documentation
The Josh Ames Ditch diversion structure was removed by the City of Fort Collins in 2013. This is the documentation of the unique history of this diversion structure and its almost 100 year history and impact on the Northern Colorado area. View the City of Fort Collins video here.
---
Cache la Poudre River National Heritage Area Management Plan
The primary purpose of this document is to outline the goals and strategies that CALA officials will use to administer the heritage area, but this plan does much more than that. It also contains a thorough analysis of the historical themes that make the CALA special, and a comprehensive inventory of all the cultural and natural resources within its boundaries
---
Charles A. Lory Paper
This paper describes Lory's connections to the region and, among many accomplishments, his work promoting the CBT project and helping solve the Bureau of Reclamation's national project-repayment problems in the 1930s.
---
Water Contours by Denise Fisher
In "Water Contours" Denise Fisher explored and examined the development of her own consciousness of water on the Northern Front Range landscape. Denise strove to convey a sense of place through the stories that intersect my life and this region.
---
Native American Timeline for Larimer County, CO
A Chronology of Native Americans in Northern Colorado from an archaeological perspective with main cultural group complexes based on tool types found in the archaeological record Burris 2006.
Compiled by Dr. Brenda Martin, Curator, Fort Collins Museum, May 2009
Native American Timeline For Larimer County
---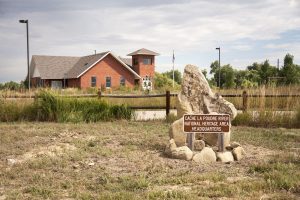 Bylaws of Poudre Heritage Alliance
The name of the corporation is Poudre Heritage Alliance, hereinafter referred to as the "Corporation." The principal office of the Corporation shall be Poudre Learning Center, 8313 West F Street, Greeley, Colorado 80631, but meetings of the Board of Directors may be held at other places, whether within or outside of Colorado, as may be designated from time to time by the Board of Directors.
The mission of the corporation shall be to support and manage the Cache la Poudre River National Heritage Area.
Bylaws of Poudre Heritage Alliance
---
National Heritage Areas 101
National Heritage Areas (NHAs) are designated by Congress as places where natural, cultural, and historic resources combine to form a cohesive, nationally important landscape.
---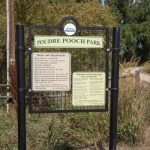 NOCO Tourism Plan
The Northern Colorado Cultural Tourism Strategic Plan articulates a vision for more robust cultural tourism opportunities, establishes a set of goals to guide the process of building more tourism infrastructure and experiences and proposes implementation strategies.
---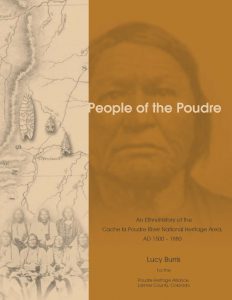 People of the Poudre by Lucy Burris
This manuscript was prepared at the request of the Poudre Heritage Alliance to enhance its interpretive program and should be considered a companion work to several other projects that the Poudre Heritage Alliance has previously sponsored. Although the history of water delivery in the West is the focus of the Poudre Heritage Alliance's efforts, it has also recognized that the area has a long history of use prior to the arrival of Europeans and Euroamericans. The purpose of this report is to document the presence of Native Americans along the Poudre corridor between AD 1500 and AD 1880.
---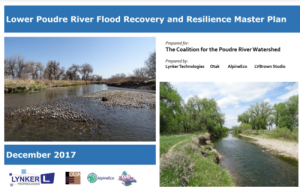 Lower Poudre River Master Plan by Coalition for the Poudre River Watershed
The historical flood events have called for an increase in resiliency of the Lower Poudre watershed. This is done using an integrated multi-objective Master Plan to assess river dynamics and Sediment Transport Model in order to propose realistic restoration options around the river corridor.
Lower Poudre River Master Plan
---
River Access Planning Guide: A Decision-Making Framework for Enhancing River Access
River Access Planning Guide is a document that provides a step-by-step process to planning for river access with recreation users in mind. The planning guide intends to serve as a resource for planners, river managers, and users as they approach site selection and design to establish new river access or improve existing access.